31.07.2015
Greek Air Traffic Controllers strike on Wednesday August 5.
The Greek Air Traffic Controllers Association (GATCA) regrets to announce a 4hour premonitory strike on August 5, 2015 between 14:00 – 18:00 local time (GMT +3) expecting from the government the initiation of the legal process for the creation of an independent and sustainable Air Navigation Service Provider (ANSP) in accordance with the provisions of the relevant EU legislation and best practices, as discussed and promised in the recent past.
We sincerely hope that the government, within the context of the reforms in the public sector, will respond accordingly otherwise we shall be forced to continue with industrial actions within August.
30.07.2015
Brussels airport security will work to rule on Monday.
Brussels Airport's e-gates suffer embarrassing glitch. Two Unions decide to begin to work to rule, starting Monday.
Long waiting lines are expected.
29.07.2015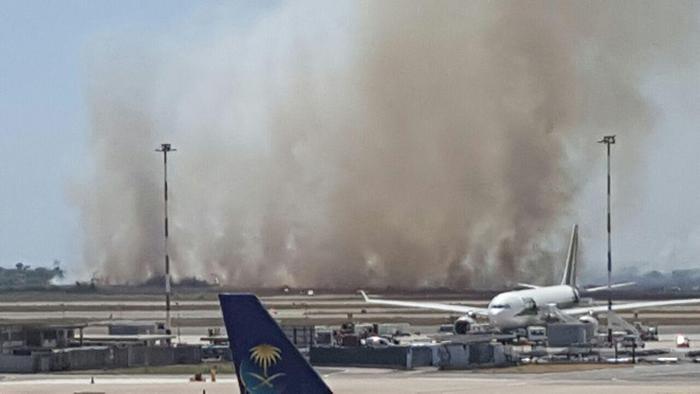 Flights from Rome airport suspended due to brush fire nearby
Departures from Rome's Fiumicino airport were suspended on Wednesday because of smoke from a firenearby.
The fire was burning in a forest of pine trees near the airport, pictures posted on the internet showed.
26.07.2015
Keep Europe's Skies Open
Keep Europe's Skies Open is an online petition established by Ryanair to prevent Europe's consumers from having their travel plans and holidays cancelled by tiny groups of Air Traffic Control (ATC) unions going on strike and closing the skies over Europe.
Read all on: http://www.keepeuropesskiesopen.com/
23.07.2015
Alitalia pilots set for 24-hour strike
Alitalia pilots and flight attendants will stage a one-day strike from midnight on Thursday after the flagship airline refused to sign an agreement promising to maintain staff levels.
Alitalia flights to and from airports across Italy, apart from Venice and Bologna, will be affected,
14.07.2015
Air Traffic Controllers in Romania To Go on 2-Hour Strike Wednesday Noon
Air traffic controllers in Romania plan to hold a two-hour warning strike on Wednesday.
The strike will be held between 11:00 and 13:00 on Wednesday.
Talks between theair traffic controllers' union and the management of Romania's Air Traffic Services Administration (ROMATSA) on a new collective labor agreement collapsed on Monday, according to local news portal ziare.com.
10.07.2015
Indonesian volcano ash closes 5 airports
Ash drifting from an Indonesian volcano closed five airports on Friday, including the one on the holiday island of Bali, causing about 250 flights to be cancelled and stranding thousands of holidaymakers.
The international airport on popular Lombok island was also among those closed late Thursday as Mount Raung in East Java province spewed clouds of ash, transport ministry spokesman J.A. Barata said.
09.07.2015
Czech Airlines flight attendants voting on strike
Flight attendants at Czech Airlines (ČSA) have started to vote on calling of strike for raising wages after their February cut, flight crew trade union (OOPL) leader Petra Posová told the Czech News Agency.
Wages of some flight attendants and pilots sank by up to 40 percent in February. The vote will last for two weeks.

06.07.2015
More strikes loom at Lufthansa after talks with pilots fail
Talks between Lufthansa and pilots' union Vereinigung Cockpit about taking a pay dispute to mediation have failed, raising the prospect of strikes at the height of the summer travel season, the union said on Monday.
Lufthansa and its pilots have been trying to agree a mediation process to end a long-running pay dispute, which has already caused more than a dozen pilot strikes since April 2014.The VC union said Lufthansa had not wanted to discuss all disputed topics and that an agreement to hold off on strikes until the end of July was no longer valid.
"A new escalation of the dispute has therefore become more likely," the union said in a statement.
05.07.2015
Summer holiday plans could be ruined by easyJet cabin crew strike
Holidaymakers planning a trip with EasyJet could be facing misery this summer.
More than 2,000 workers at the budget airline are set to walk out in a row over pay
The strike – the first by British-based easyJet crew – is likely to take place next month.
03.07.2015
Danish unions: Ryanair strike from July 18
The Danish unions have now formally announced their intent to initiate a strike against Ryanair starting July 18, following yesterday's ruling from the Danish Labour Court allowing them to take 'industrial action' against the airline.
Update july 8: Swedish unions have announced plans to join a Danish strike against Ryanair which could see the budget airline pull out of Scandinavia's biggest airport.
Update July 10: Ryanair shuts Copenhagen base to avoid strike
Irish low-cost carrier Ryanair on Friday announced the closure of a recently opened base in Copenhagen to avoid a strike by Danish unions, but said it would continue to fly from the airport.